Smartphones, laptops, and tablets are practically an extension of themselves. We all set up a fingerprint or pattern lock on the mobile, a username and password to log in to our Gmail account, and our phone number as an alternate backup to verify our identity if we forget our password … are these? These are nothing more than examples of setting up policies and practices to protect and secure our devices.
Similarly, organization's spread over different locations provide access to their employees from remote areas through high-speed networks. Companies store vast amounts of data and information related to employees, customers and third parties. How do they secure networks and protect data and information from unauthorized access or malicious activity? The answer is with a team of highly skilled network security architects.
What is a Network Security Architect?
The network security architect sets up policies and practices to protect network integrity, establishing multiple layers of defense and authentication to ensure that only authorized users have access to the network.
In short, a network security architect designs, builds, tests, and implements network security systems within a company's IT network.
What are the roles and responsibilities of a network security architect?
A security architect's role begins with assessing the current network security system, which involves identifying the system's strengths and weaknesses and implementing measures to strengthen network security. Their responsibilities include but are not limited to:
Conduct penetration testing, risk analysis, and ethical hacks on local, wide area, and virtual private networks.

Evaluate the effectiveness and efficiency of routers, firewalls and similar security systems.

Check for any vulnerabilities in hardware or software systems.

Design and implement network security architectures for the organization's specific needs while following industry best practices.

In the event of a security breach, architects must determine the cause and extent of damage and ensure rapid recovery to return to normal.

After the event, they must rebuild their security systems to prevent future attacks.
What knowledge and skills are required to become a network security architect?
A network security architect must anticipate every possible option hackers might try to gain access to an organization's systems. They must be highly vigilant and be able to design a robust and scalable network security system with multiple layers of defense and authentication to protect data and information from falling into the wrong hands.
Naturally, to become a network security architect, you need to have a good understanding of complex network and IT systems, network hardware configuration, network protocols, networking standards, and network and information security principles.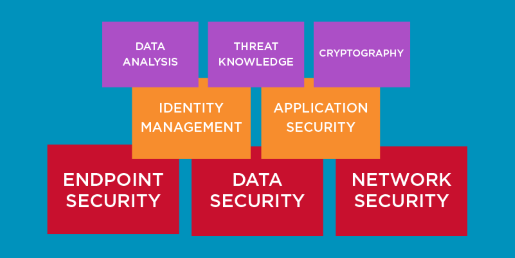 In particular, you should be well versed and experienced in various types of network security such as firewalls, email security, anti-virus and anti-malware software, network segmentation, access control, application security, behavioral analytics, etc. prevention, intrusion prevention, mobile device security, security information and event management, virtual private networks, web security, wireless security, etc.
Network Security Architect Career Prospects and Average Salaries
According to a report published in Markets & Markets: The global network security software market size is expected to grow from USD 13.5 billion in 2019 to USD 22.8 billion by 2024, at a compound growth rate (CAGR) of 11.0% during the forecast period.
Considering the growth potential in the network security software market, logically, the demand for skilled network security professionals will be high. So it presents an excellent opportunity for professionals who wish to pursue a career in the network security domain.
Network security architect's salary depends on education, certification, number of experience, additional skills etc. According to Salary.com, the average salary for a network security architect in the United States ranges from $108,000 to $139,000.
How to become a network security architect?
Suppose you are serious about becoming a network security architect. In that case, we recommend that you enroll in a professional course that equips you with the knowledge and skills to design, build, test, and implement network security.
591lab.com conducts Network Security Architect Certification training courses for networking professionals. We provide deep knowledge of network security architecture and best practices for architecting and deploying robust and scalable network security solutions. We offer you the opportunity to work on real-time industrial projects to gain expertise in network security design, planning and implementation.
Professional training, professional experience, and professional certification are the paths to becoming a security architect.
Importance of Certification
Having a professional network security certification under your belt supports your knowledge and skills and gives you a distinct edge over competitors regarding job prospects. Certifications increase your chances of getting a higher salary and faster promotion and boost your career growth.
Let us now look at the leading network security certifications recognized globally.
CCNP Security: Cisco Certified Network Professional Security

CCIE Security: Cisco Certified Internetwork Expert Security

Checkpoint CCSA, CCSE CCSM Certifications

Palo Alto: PCNSE

CEH: Certified Ethical Hacker

CISSP: Certified Information Systems Security Professional

AWS Certified Security: Specialty

Juniper Networks Certified: Internet Specialist, Security (JNCIS-SEC)

Fortinet Network Security Expert (NSE 8)

CompTIA Security+
Conclusion
The role of the network security architect has tremendous significance, now even more so, thanks to rapid digitalization and the need for remote work. It is a very satisfying and profitable career option. Best of luck on your journey to becoming a Network Solutions Architect